owh..............., mmg heaven amat sgt klu leh dapat cake seperti ini pada hari bersejarah ........ seriously, I falling in love with this cake...., RED n WHITE.. so sexy... huhuhuhu. Klu leh dapat cani... I'm the happiest person on that day... .. konfem saya nk makan buah yg berwana merah tu dulo sorang2... hahahahah, x la, mesti nk kongsi-kongsi.. mana nak abis klu makan sowang.. abis mmg la abis, but x best mkn sowang2......, but saya leh bermimpi je la..., huhuhuhu, nk tempah cake cani kena ader season.. igt sume bakery nk ikut citarasa saya ke, I'm no somebody else, just a normal person... kena berpijak pada bumi yg nyata, melainkan saya mmg tinggal di Cameron Highland.. konfem, mimpi tersebut menjadi kenyataan... uhuhuhuhu. Wedding cake that I have is simple just SECRET RECIPE.. ok la, dari x dapat langsung, baik dpt.. x gitu... eh2, silap2... bukan wedding cake but solemnization cake, sbb saya dapat masa akad nikah.. x kisah la, yg penting ader cake....
Still wish, if I have these cake...., isn't lovely to look but delicious to eat....
Kan best, klu saya boleh bagi goody gift cani kepada tetamu saya... huhuhu, mmg best.....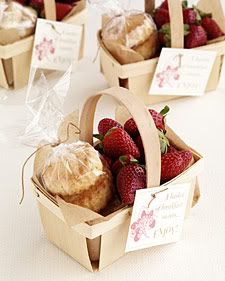 so sweet, ain't...., walaupon saya x dapat menunaikan mimpi saya, tp saya cuba sedaya upaya saya untuk memberikan goody gift yg terbaik kepada tetamu saya, tanpa anda majlis saya tidak berjalan dengan lancar.....